We Are Your Computer Laptop and E-Waste Recycling Answer
Computer Recycling In The Greater Seattle Area: For over 25 years in the computer and laptop repair and recycling business we have given end users, and companies an easy, sensible recycling answer. If your company or household has e-waste, computers, laptops, or Macs / Macbooks or servers to recycle we will properly dispose of them. Everyone in the Greater Seattle Area can count on us for all of their computer and laptop recycling needs.
Responsible Recycling Methods For Laptops And Desktops
Responsible Computer Recycling: As both people and industry in the Seattle Area upgrade their computers, laptops, Macbooks, and servers they need somewhere to take their end of life cycle e-waste. Someone responsible. Someone who will refurbish as many computers for re-use as possible. We are the right company to do this. Since we focus on refurbishing computers for re-use, and also repairing broken computers to be resold we may be the most environmentally friendly computer recycling company around. We safely recycle all brands and types of computer equipment.
Partner With Us: With Computer Recycling Seattle you now have a great partner in the computer and e-waste recycling industry who really understands your needs. We assume everyone wants to safely dispose of old computers and electronic equipment in a truly environmentally responsible manner. This is what we keep in mind when we think about all of our recycling processes.
We Focus On Re-Using Recycled Computers
Recycled Computer Re-Use: Our company promotes re-use of recycled computers. We extend the life of functional computers and this reduces overall e-waste. Every computer we can refurbish and re-sell is one that does not need to be manufactured, shipped, and then sold.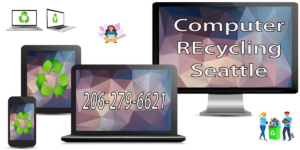 Secure Data Destruction: Companies in the Seattle area who are discarding un-needed computer equipment are of course concerned about identity theft from information on their old computers. They also have security compliance procedures to follow. Remember there are cyber criminals always trying to obtain personal information from computers and hard drives. Tossing old computer equipment and hard drives into dumpsters is not only illegal, it might lead to trouble. Improperly disposed of computers can leave your company vulnerable to unscrupulous individuals. People who may be searching for credit card numbers, social security numbers, and other types of data, including corporate information. When you recycle with us, we guarantee no data will be available for exploitation by anyone. – Benefits Of Recycling Computers –
We Remove Data Centers And Recycle Servers Racks Switches And Networking Equipment
Data Center Removal And Recycling: With all of the different types of economic pressure that is being applied to Seattle companies today, there is constantly a need for data center removal. In the Seattle Area we constantly help our customers shut down their data centers, and recycled their computer, servers, and networking equipment. We guarantee to handle every phase of a data center breakdown and removal with care, and professional methods.
Recycled Hard Drive Destruction: Computer Recycling Seattle offers secure and reliable hard drive destruction options. Our hard drive crusher is fully capable of crushing and destroying any hard drives your company may have. Server, desktop computer, and laptop hard drives can be destroyed on-site when necessary. We also offer a certificate of destruction when required for all hard drive destruction at no cost.