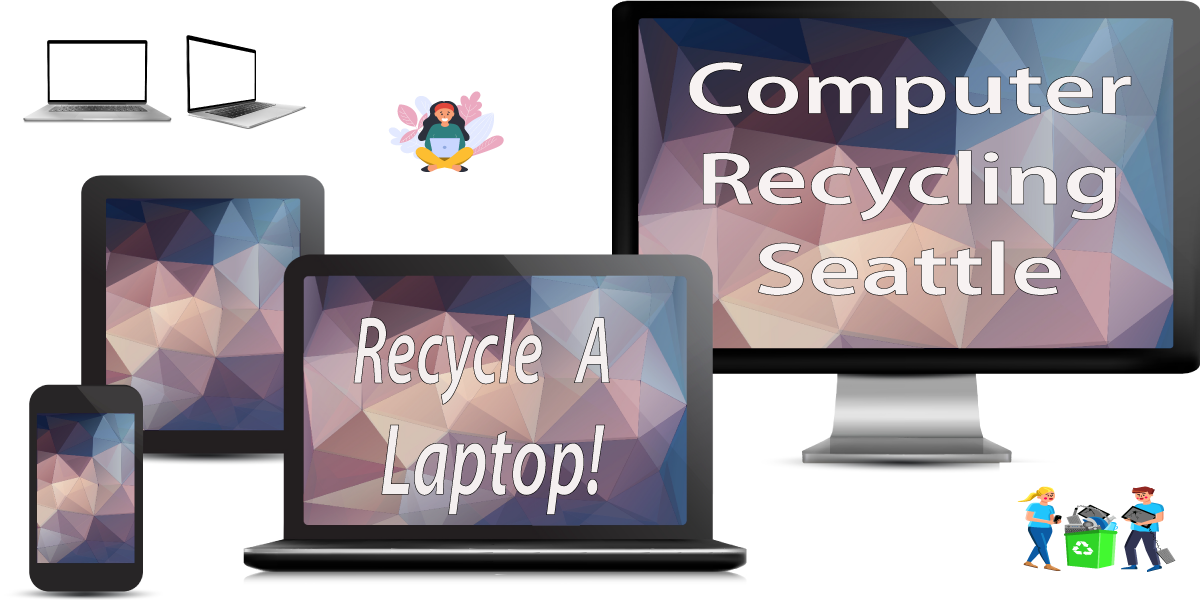 We Recycle Laptops
Computer Recycling Seattle Is The Leading Laptop Recycler: In Seattle there is no company that recycles, and refurbishes more laptops than Computer Recycling Seattle. Our partner Seattle Laptop Inc is our refurbisher, and can make use of almost any recycled laptop, or laptop parts. If you would like to recycle a laptop, or a stack of laptops, bring them in. We will fix them, and find them new homes if at all possible.
Drop Off Laptops To Be Recycled: We have an easy drop off location at the corner of 76th and Aurora in North Seattle. There is street parking on Aurora until 3PM weekdays, and all day Saturday. If you have a laptop, or a Macbook you don't need any more, and would like to recycle it bring it by. We guarantee to wipe all data, or destroy the hard drive.
We Refurbish Recycled Laptops: At Computer Recycling Seattle we do all we can to make working laptops out of the machines that are recycled. This includes Macbooks. We take parts from multiple laptops in many cases to make working ones. For instance a lot of recycled laptops have screen problems. We can take the screen from one laptop with a bad motherboard, or other problems, and put it in a different machine. This takes two non functional laptops, and makes one whole. Then we market, or donate the refurbished laptops.
Refurbishing Laptops Is Good For The Environment
When We Refurbish A Recycled Laptop: A refurbished laptop can be used in a situation where a person does not have to buy a new laptop. Many laptops that are recycled are powerful enough to be used in today's world. We can take a recycled laptop, install a new SSD hard drive, and sell a great performing used laptop for far less than a new one. Computer Recycling Seattle does all we can to find homes for every laptop recycled at Computer Recycling Seattle.
Corporate Laptop Recycling
We Will Pick Up Recycled Laptops From Your Company: If your company has laptops you are not using, give us a call. Our team will come to your location, remove all of your unneeded laptops, and wipe the hard drives. We will then refurbish as many as possible and find them homes. Clean out your storage areas by recycling your laptops, computers, and E-Waste today. Call for a Pick-Up during normal business hours.