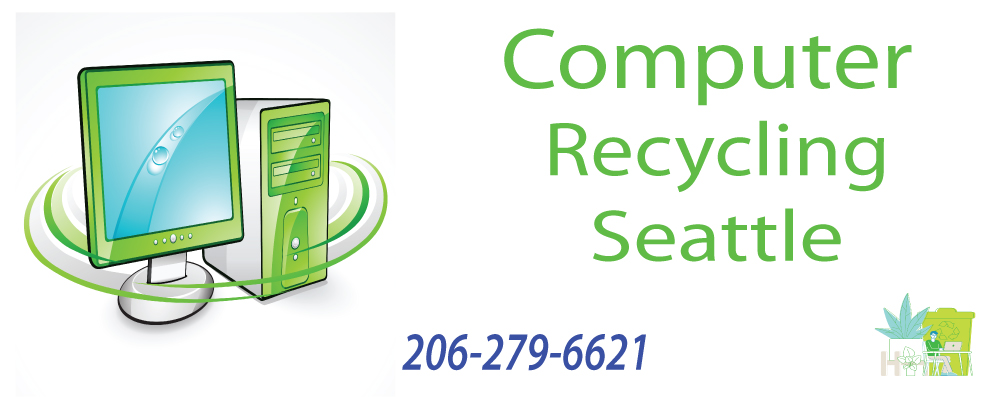 Laptop Recycling Accessibility: Computer Recycling Seattle is located in North Seattle so you don't have to go out of your way to have your laptop recycled. Great customer service is at the heart of everything we do at Computer Recycling Seattle. Get in touch with us and we will offer you directions, insight, and we will help you with all of your laptop recycling needs within seconds. Go Green by recycling all of your e-waste, laptops and computers with us today! We are Seattle's number one laptop recycler.
Convenient Location 76th and Aurora in North Seattle
Convenience: We are open 5 days of the week for your convenience. If you have any questions about Computer Recycling Seattle's hours or accessibility feel free to reach out to us – and we will answer all your queries about recycling your equipment / laptops or computers. We have convenient laptop recycling drop off at our store. If you need assistance just call us once you show up, and our staff will gladly help you unload your laptops, computers, Macbooks, or other types of e-waste.

Versatility: Do you have a Macbook that no longer works, or is needed? How about a PC laptop from the middle ages of computers?  Even if you have a newer laptop working or not we are here to responsibly recycle it for you. No matter what the make, model, or year of manufacture is, Computer Recycling Seattle can recycle your un-needed machine. We will make as much use as possible out of all laptops and laptop parts recycled. Our company will also recycle all brands and styles of laptops and desktop computers. Of course we recycle Chromebooks, cell phones, and tablets too. iPhones and iPads can also be recycled at our location.
We Recycle Cameras And Photography Equipment
Camera Recycling: Computer Recycling Seattle recycles all types of cameras. Working or not. If you, or your company has cameras or other photography equipment you no longer use, and would like it recycled, bring it in. We will do all we can to find it another home where it can be used again. Most recycled cameras working or not can be useful.
Creating Value: Nothing goes to waste at Computer Recycling Seattle. Our team thoroughly inspects every single item that passes through our doors. We want to know if it can be recycled, refurbished, used for repairs, or put to use in any other way. Our staff often uses two or three recycled laptops or Macbooks to make a working one in our refurbishing for re-use process. At Computer Recycling Seattle, we do all we can to refurbish and re-purpose as many recycled laptops and computers as possible. We also refurbish Macs, Macbooks, and iMacs.
Laptop  Recycling is Always Free
Free-of-cost Laptop Recycling: Recycling laptops at Computer Recycling Seattle is always free. This means you can get rid of your old laptops and computer parts without putting a dent in your wallet. Recycling laptops and desktop computers is always free with us. Call us if your have other equipment – Contact Us – and if you have any questions about recycling laptops computers, or e-waste. We guarantee to securely wipe data from all hard drives in recycled laptops, computers, and Macbooks.
Corporate Pickup Service: Our laptop recycling service is augmented with the ease of our corporate laptop pickup service. All you need to do is schedule an appointment. Our truck will pick up your laptops, laptop chargers, adapters, and anything you no longer have any use for free, or for a very small fee. Call us if you would like us to do a recycled computer pick-up.
Responsibly Recycling Laptops and E-Waste: Generating more E-waste is something almost everyone does, regardless who they are. Practically everyone not living in certain parts of Pennsylvania use, and then need to dispose of electronic waste, like laptops. Fortunately for laptop users, there are many ways to responsibly recycle e-waste like laptops. Properly recycling laptops will minimize overall environmental impact from discarded electronics. Computer Recycling Seattle provides responsible computer recycling, laptop recycling, e-waste recycling. We also take in and process monitors, tablets, cameras, routers, switches, networking equipment, servers, and cell phones. We recycle items from households, small businesses, schools, and all types of organizations and nonprofits. Recycling laptops and computers is always free, and we always destroy the data in recycled laptops, and computers.
We Refurbish Recycled Laptops
Repurposing Your Company's Laptops: To save money many companies hire outside venders to refurbish, and reset their old laptops, and computers. One company that specializes in refurbishing laptops for others is Seattle Laptop. Your company may have a number of laptops, or computers you need to get ready to give to new employees. You don't have the staff to repair and reload, or refurbish them. You really don't want to buy new machines. Just call a reputable laptop refurbisher. You can save money, and help the environment at the same time. Instead of recycling your laptops, your company can simply re-use them.