Recycling For Re-Use Always: The team at Computer Recycling Seattle has one main goal. We always strive to keep in mind re-use when e-waste recycling. During the processing of all recycled computers, laptops, Macs, Macbooks and other types of recycled e-waste we constantly target re-use. As we process and test recycled computers and laptops, we do all we can to keep recycled items from being damaged. We do this so they can be refurbished for re-use as easily as possible. Many computer recycling companies do not take as many steps as Computer Recycling Seattle to keep damage from occurring.
We Recycle Components For Re-Use: Computer Recycling Seattle recycles a large number of motherboards, and cpu's. In many cases recycled motherboards can be used to repair other computers. When a desktop computer is repaired, a new computer does not need to be manufactured to take it's place, which is great for the environment. Some claim it takes more energy to manufacture a computer than a computer will use in it's lifetime. If true, this would be amazing.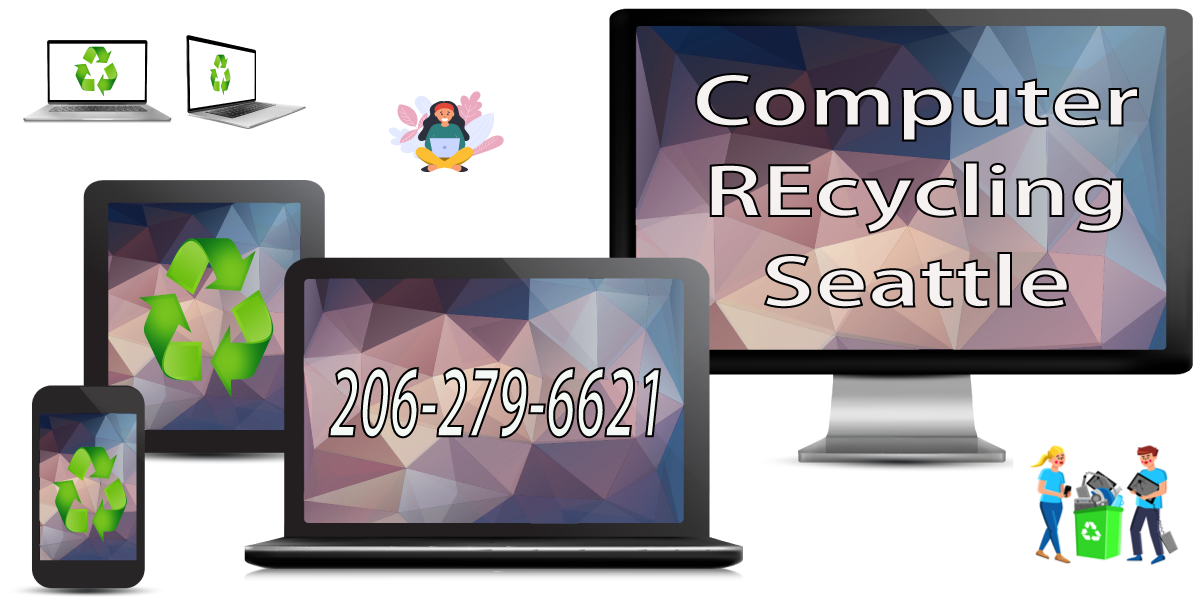 Constant Improvement: Our company is constantly improving our recycling operations, and recycling methods. From logistics, to re-marketing recycled computer equipment, we strive to increase value to our customers. When your company, or family uses us for your e-waste and computer recycling needs, you can rest assured we will do all we can to make the best use of your unneeded items. This incudes iPads, Cell Phones, iPhones, Microsoft Surface, and the tablets we recycle.
Corporate Computer Recycling Is Free In Most Cases
Low Or No Cost Recycling: Our expert logistics team, and computer removal staff can in most cases take care of your company's recycling needs, and data wiping requirements at little, or no cost. Just give Computer Recycling Seattle a call today, and let us know how we can help recycle your company's e-waste and computers. Even if your company has special needs or requests, Computer Recycling Seattle can accommodate almost anybody. From inventorying computers, to onsite data destruction. We can handle it. We once recycled  the POS equipment for a fast food chain from Bellingham to Olympia. Their teams went in and changed out their networks, and we came by the following evening and removed and recycled all their old POS equipment. None of the other computer recycling companies they contacted were able to help them. For us it was no problem.