Responsible Electronics Recycling in Seattle
Recycle Your Electronics With Us: These days  large part of Seattle's waste stream is electronics, or e-waste. E-waste refers to computers, laptops, cell phones, tablets, computer screens, or monitors, servers, Macbooks, cameras, cables and networking equipment. Also, many types of other devices have thus become a very large percentage of Seattle's and other cities waste streams. Did you know that every year the people living in the Seattle Area, as well as the surrounding areas need to recycle tons upon tons of electronics. This includes computers, servers, laptops, Macs, cell phones and other types of electronics. Companies of all sizes also need to properly recycle their IT equipment, including networking gear, switches, routers, servers, and server racks. They also have a need to recycle a wide variety of other electronic items considered e-waste.
Many Of Us Work In The Technology Industry In Seattle: Did you know that in the Greater Seattle Area a  large number of people not only love and use new technology, but thousands of citizens even work in the industry itself. Have you ever heard of Google, Microsoft, or Amazon? These huge companies have thousands upon thousands of employees who are our neighbors. We create technology, and create e-waste at the same time for a living. We partner some computer recycling operations with Seattle Laptop and Electronics Recycling Seattle.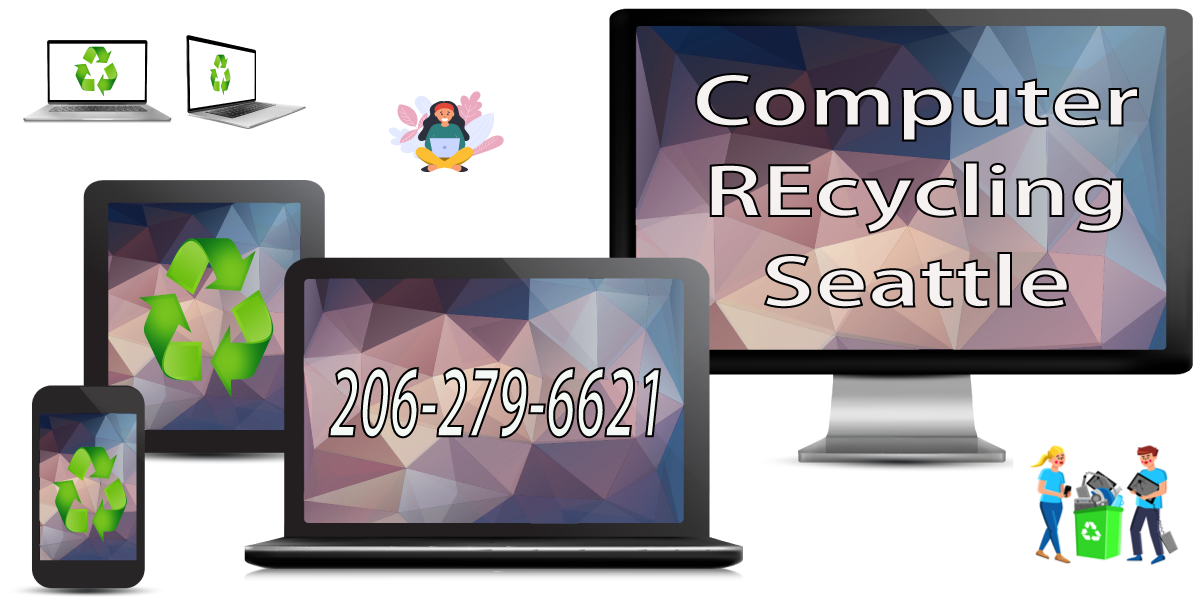 Electronics Use Reduces Paper Waste: It is a fact that commonly used devices like  computers, laptops, and Macbooks actually will substantially reduce the amount of paper waste society generates. The problem is after these devices / electronics have lived out their lives, and then have outlived their functioinal usefulness, they will often simply end up in closets, storage areas and basements. After they become obsolete they become out of sight, and out of mind.
Old Computer Recycling
We Offer Easy Obsolete Electronics Recycling: The good news for us all is there are electronics recycling solutions for your obsolete computers, laptops, and other electronics. This will mean that if your recycle the electronics responsibly, it will then allow the raw materials in the recycled items to be refined, and processed to be used to make new devices. This is far better for our environment than constantly mining the raw materials needed for manufacturing. We are a leading Seattle Area electronics recycler.
Call Computer Recycling Seattle Or Drop Off Your Electronics: If you would like to call us for more information about our recycling services, feel free to contact us. If you have or work for a large organization with a considerable amount of electronics you need recycled, such as computers, and laptops, we will remove your obsolete technology at little to no cost from your company's location.
Refurbishing Electronics For Re-Use
We Refurbish Electronics For Re-Use: When we remove your company's electronics / e-waste we will then attempt to refurbish for re-use as many of the recycled computers, servers, laptops, or Macbooks as possible. For the e-waste that can't be reused, the rest will be taken to other material recyclers. These local companies will properly process the obsolete, and broken electronic e-waste for the raw materials.
Seattle Rocks For Recycling: Did you know that our city Seattle is one of the best cities in the entire world for properly recycling electronic e-waste, computers, laptops, and other equipment. Many of the citizens here, our neighbors care about the environment and recycle at a far higher rate than many other large cities.
Do Not Throw Electronics Into The Trash
Illegal To Throw Away E-Waste: Since they passed legislation in 2005, in Seattle it became illegal to put electronics, and other e-waste, including laptops, computers, lcd monitors, crt monitors into the trash. This includes throwing away electronics at the landfill / transfer station. If not properly recycled these devices contaminate our environment. Electronics contain many different types of hazardous materials, such as lead, cadmium, and other elements, and chemicals. Our landfills are designed for decomposing trash, and are not designed to handle e-waste. Computers, laptops, servers, cell phones, and other items that become obsolete far too quickly need to be recycled properly. Please choose a reputable company for your e-waste recycling needs.
Electronics We Take In For Recycling
PCs and Macs
Desktop Computers
Hard Drives
Motherboards
Computer Cases
Laptops
Computer Power Supplies
Macbooks
Computer Video Cards
Computer Memory / Ram
Servers
Keyboards
Networking Equipment
Routes
Switches
Hubs
POE devices
USB devices
Cables / Wires
PDAs
Stereo Equipment
Cell Phones
Tablets
iPads
iMacs
Apple Products
MP3 Players
Fax Machines
VCRs